How to sync a custom Outlook email folder in InfoFlo?
1) In Outlook create your own custom email folder. For example you can create an "InfoFlo" email folder in Outlook as shown in the picture below.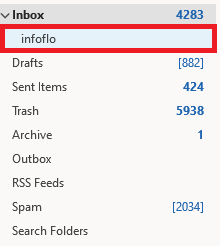 2) Launch InfoFlo. **(If InfoFlo was open while creating the email folder you must reboot InfoFlo)
3) Click on settings-profile-accounts-new-Microsoft Outlook (sync)-next-next
4) Click on the "Emails" tab and select your Outlook email folder/s that you want to sync with InfoFlo. Be sure to select the direction and mark it as default if it's the only email folder you are syncing to InfoFlo as shown in the picture below.