Redundant Server Configuration
Search Knowledge Base by Keyword
You are here:
Redundant Server Configuration
How does it work?
A secondary InfoFlo Talk server located at a different data center which will automatically take over during a service outage at the primary data center.  This mirrored configuration is fully transparent to the user as each extension is registered on both servers.  When the primary server is back online VoIP traffic will again be re-directed to the primary location.
Server Setup
When activated, we export all base system inbound routes, extensions, ring groups, IVRs, etc … to the secondary server.  Advanced workflows such as queues and time conditions need to be manually copied and re-configured.  Most customers prefer to have a more basic setup for the mirror server to keep things simple. We then enable the fail over config where if the initial destination is unreachable traffic is automatically re-directed to the secondary destination.
Enabling on User Extension
In the account configuration examples of the phone  setup (here and here), where the extension, server and password are defined, fill in the secondary server (or server 2) field with the IP address or hostname provided.  If the port field is not filled, set its value to 5060.  See screen shots below:
Polycom 550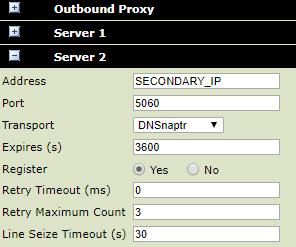 Yealink 21P

Make sure to save the phone configuration.  Check to insure the registration status of the phone is "registered"
Provisioning
If a provisioning server is being used to fetch config files then the secondary server details need to be manually added to phone's config file hosted on the provisioning server.
Bria softphone
Bria teams setup allows for just one sip server to be configured, so Bria extensions will not automatically fail over until the mirror host name is changed on the Bria portal.