Setup Bria Teams
Search Knowledge Base by Keyword
Steps to setup Bria Teams and connect to InfoFloTalk
Bria offers a cross platform softphone product that can be configured once and run on any device.  The product comes in different flavours ranging from a free version all the way to a enterprise call center version where an admin can centrally manage all VoIP accounts.  All versions of Bria will work with InfoFlo Talk.  For a complete product comparison please click here
Install Bria Teams (multi user)
Download and Install
The product requires an online registration, please click here to get going.
20% discount coupon code
Customers wanting to buy Bria teams for their workgroup can receive a 20% off the subscription price of the first year by registering using this link.
Setting up a shared VoIP config for all team members
Login to your new account and click on the icon from the top menu
Click on the button to add a new connection
In the Service Settings tab:

set SERVICE LABEL to "InfoFlo Talk" (" " should be removed)
set DOMAIN to InfoFloTalk host name as provided in the intro email
All other settings should match the image below
Inviting team members
Click on the

from the top menu to configure team members.  Click on the

to add a new team member and send out an invitation by email.
Configure an InfoFlo Talk extension by clicking on each of the team members.  Clicking on each team member will pop up the extension dialog as seen below.  For each extension select InfoFlo Talk from Voice service pulldown (should be the only option) and copy/paste the extension and the password as setup in InfoFlo Talk portal.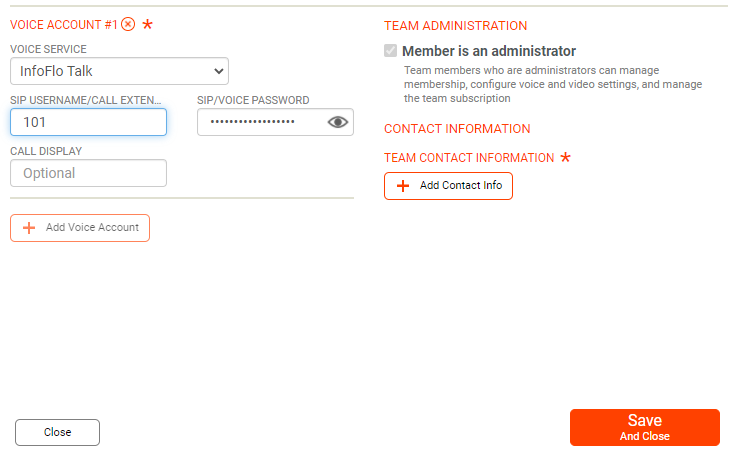 Team member sign in using Bria
click on the from the email invite.
launch Bria app and sign in using the credentials setup by each user
Assigned InfoFlo Talk extension will be displayed in the upper left corner
Set outgoing account to if its set to Auto Select
Under Softphone Menu -> Preferences, click on devices to setup speaker and microphone to be used.