Advanced Search
Search Knowledge Base by Keyword
Using the Search & Analytics Tool
The search tool can be used to query call history and filter the results based on name (caller id), number, date or date range.  Reports can then be generated based on  inbound calls, outbound calls or both as well as a designated user extension or all extensions.
The search results will display as a table showing the complete call record including:
call direction (first column showing either for inbound calls, or for inbound calls)
call duration in seconds
date time of the call
action buttons for listening to the call recording, deleting the call record and click to dial to ring the caller back. ( to the left of the duration indicates that a recording is available).
To run a new search query first make sure to be logged in to the portal as an admin.
Select the Advanced Search menu item from the portal menu on the left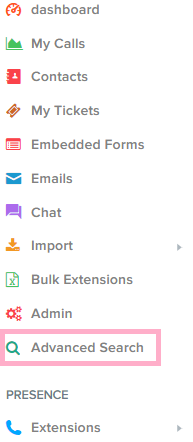 Selecting one of the options in the Filter By drop down.  If date range is selected please choose start and end dates.

Next, select an option from Search In drop down.

From the Extensions drop down, select either a single target extension or select All to broaden the search to all users.
Click on

to generate the search output.