Inbound Routes
Search Knowledge Base by Keyword
Inbound routes are all the inbound DIDs (phone numbers) which are routed to an InfoFlo Talk instance.  They represent the starting point of the inbound call workflow.  The routes are configurable through the admin interface by clicking the 

 button from the menu on top.
Add Incoming Route
After registering a new DID with us, it will be automatically added to the inbound route list displayed on the right.  The default destination will be set to the first registered extension.
Options – Explained
Description – Provide a meaningful description of what this incoming route is.  We recommend setting this to the number itself separated by -, for example 416-223-4453
DID Number – This parameter will be filled in by us.  Please don't change the values here.
Alert Info – can be used for distinctive ring with SIP devices.  Please don't change if you are not sure how this will affect inbound calls.
CID name prefix – You can optionally prefix the CallerID name. ie: If you prefix with "Sales:", a call from John Doe would display as "Sales:John Doe" on the extensions that ring.
Music On Hold – Set the music on hold class already defined that will be used for calls that come in on this route. For example, choose a type appropriate for routes coming in from a country which may have announcements in their language.
Signal RINGING – Some devices or providers require RINGING to be sent before ANSWER. You'll notice this happening if you can send calls directly to a phone, but if you send it to an IVR, it won't connect the call.  Please don't change if you are not sure how this will affect inbound calls.
Pause Before Answer – An optional delay to wait before processing this route. Setting this value will delay the channel from answering the call. This may be handy if external fax equipment or security systems are installed in parallel and you would like them to be able to seize the line.  Please don't change if you are not sure how this will affect the system.
Privacy Manager – If no CallerID has been received, Privacy Manager will ask the caller to enter their phone number. If an user/extension has Call Screening enabled, the incoming caller will be be prompted to say their name when the call reaches the user/extension.
Set Destination
Setup the call workflow as to the initial destination of the call when it hits the inbound channel.  Clicking on the pull down list the call can be routed to any other configured destination such as another users voicemail, another users extension, a ring group, a queue, a conference, an IVR etc… Once a configured destination type is selected from the pull down list, another pull down list will appear on the right to select the final destination.  Below is an example of a call workflow where the call is routed to the "Main" digital receptionist (IVR).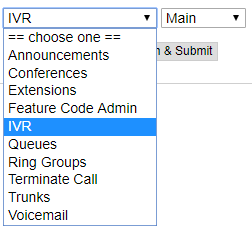 Saving the config
Press the 

 button at the very bottom to save changes, and then click on the 

 to have the changes take affect immediately.