Conferencing
Search Knowledge Base by Keyword
Creating A Conference
Click on the conferences button

, and fill in the form displayed on the page.  The top of the form should look like image below.  Existing conferences can be edited by selecting from the list on the right.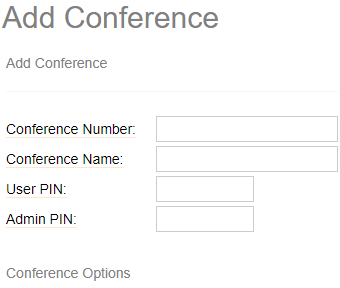 Basic Required Fields
Conference Number – Use this extension number (our naming convention is to start conference extensions with 701 as to not conflict with existing extension numbering as more users are added) to dial into the conference from a local extension.  Remote dial in requires setting up this conference as a call workflow destination through IVR, ring groups, direct inbound route etc…  It is recommended to use this extension when dialing into the conference using a system extension, even if the conference has a direct dial in number setup as an

inbound route

.
Conference Name – Give this conference a brief friendly name.
Advanced Fields – explained
User PIN – You can require callers to enter a password before they can enter this conference.
Admin PIN – Enter a PIN number for the admin user.  This setting is optional unless the 'leader wait' option is in use, then this PIN will identify the leader.
Join Message – Message to be played to the caller before joining the conference.  The list will display all systems recording from recordings menu.
Leader Wait – Wait until the conference leader (admin user) arrives before starting the conference.
Talker Optimization – Turns on talker optimization. Talkers who are not speaking as being muted, meaning that no encoding is done on transmission and that received audio that is not registered as talking is omitted, causing no buildup in background noise.  The default value is NO, please don't change if not sure how thins will affect conference performance.
Quiet Mode – Quiet mode (do not play enter/leave sounds).
User Count – Announce user(s) count on joining conference.
User join/leave – Announce user join/leave.
Music on Hold – Enable Music On Hold when the conference has a single caller.
Music on Hold Class–  Set the music on hold class already defined that will be used for calls that come in on this conference.
Allow Menu – Present Menu (user or admin) when '*' is received ('send' to menu)
Record Conference – Record the conference call.  Please get in touch with us before enabling this.
Maximum Participants – Maximum Number of users allowed to join this conference.  Please get in touch with us if you planning on having more than 5 simultaneous callers in all conferences.
Mute on Join – Mute everyone when they initially join the conference. Please note that if you do not have 'Leader Wait' set to yes you must have 'Allow Menu' set to Yes to unmute yourself
Saving the config
Press the 

 button at the very bottom to save changes, and then click on the 

 to have the changes take affect immediately.